Submitted by Kate Hawkins on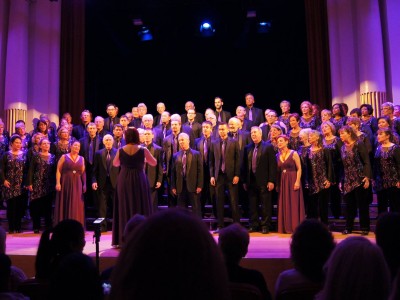 The following review was published in What's On Sydney following Sydney Harmony's Holiday Voices At the Independent Show which they invited Circular Keys Chorus to join with them.
Review by Regina Su
Holiday Voices at the Independent was a stellar showcase of award winning a Capella and Barbershop chorales. Through the course of the night, four choirs presented pieces that were entertaining and light-hearted, as well as sombre and moving. Booming vocals from the men's Sydney Harmony were balanced with sweet melodies from the all-female Circular Keys Chorus. Alouette, a quartet of Sydney ladies, performed festive favourites, as did Blindside, a Barbershop quartet of young Queensland men. I was blown away with the character of each choir; their personal touches of humour, their beautiful precision and haunting harmonies. With the exception of Blindside, the choirs came under the talented direction of Vicki Dwyer, who led the performers with control and feeling. 
Sydney Harmony is a sensational men's chorus, welcoming choristers from all ages. They sang four-part songs by Frank Sinatra, the Beatles, the Beach Boys and festive songs to mark the occasion, all with very powerful bass vocals and smooth tenors. They were clearly a performance troupe, with polished actions and perfectly timed movements that rippled through the singers, just as the sound did. Their tribute to Martin Luther King Jr. was particularly outstanding, as it was eerie, soft and showed restraint. Breathtaking. 
Alouette Quartet was beautiful. The combined vocals in this quartet were like velvet, covering baritone to soprano and working together in a sweet, streamlined unit, not unlike the Andrews sisters. Their performance was competition-worthy, singing and moving in unison and balance. 
The Circular Keys showcased their versatility by singing some festive favourites, counterbalanced with some modern medleys and remixes. They performed Adele with great gusto, as well as a Katy Perry, Bruno Mars and Black Eyed Peas mash-up, which was very clever and sung with such enthusiasm that the audience began to sing along. The festive cheer was marked by, "All I Want For Christmas", however they revealed images of Hugh Jackman in time with the lyrics, which made the performance very funny and very punny. The Circular Keys have a very powerful bass and baritone section, which is really to their credit and provided a complete sound. 
For me, Blindside was a highlight. They performed as a single body, one unit of sound that split and converged into the four-part harmonies and back into the melody, the same way that cars duck, weave and merge through traffic. Their complete eloquence was astounding and their stage prescence really captured the audience, who cheered them on as they performed popular songs from Randy Newman, and West Side Story, to Louis Armstrong. This barbershop quartet was recently successful on the world stage, earning a Bronze at the Barbershop Harmony Society International Collegiate overseas this year, so it was a great pleasure to witness this young Brisbane quartet redefine what we understand of the traditional barbershop genre. They were so crisp, clean and tight, and their energy was infectious. 
Finally, the performers gathered together for a combined chorus. From the men there was such a depth of sound, and the women provided a unique lightness. There was overwhelming power from all of these individually talented men and women, and yet together, they showed so much restraint and control (which is credit to Vicki Dwyer as director). As one body harmonising eight separate parts, they breathed haunting melodies that slide into each other and rippled through the eighty (or so) strong group on stage. 
All the performers brought their experience and talent to the stage and were streamlined, mesmerising and perfect as one body of sound. I recommend seeing a performance of Barbershop and a Capella. To witness what these vibrant women and men do with only their voices is simply astounding.