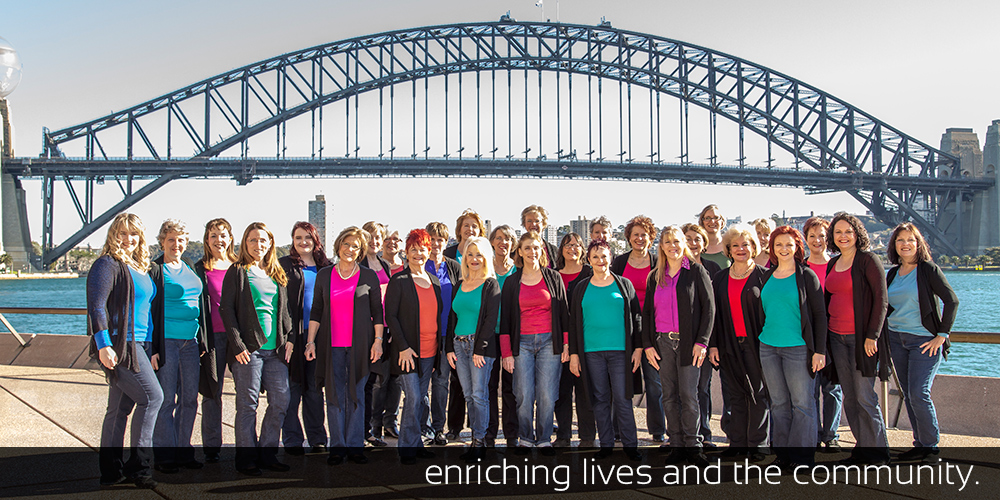 Circular Keys Chorus has been providing entertaining, dynamic and award-winning performances of barbershop harmony in the greater Sydney area since 1995.  Over 50 women come from Sydney's north-western suburbs and the Central Coast with the aim of enriching their lives and the community through education, performance and musical excellence.  The women of Circular Keys Chorus have diverse backgrounds and experiences; the common bond is their love of performance and their appreciation of the personal fulfilment that comes with the ongoing pursuit of musical excellence. 
Circular Keys Chorus is a chapter of Sweet Adelines International, which is a worldwide organisation of women singers committed to advancing the musical style of barbershop harmony through education,  performance and competition. We regularly compete in Sweet Adelines regional competitions.  We were delighted to become Australian  Champions in 2011, taking us to  Denver in 2012 to represent Australia in Sweet Adelines International competition.  This was our second venture on the international stage, following our first international experience in Nashville in 2009.  We won the Small Chorus competition in Perth in 2017 and scored well enough to qualify to compete in the Sweet Adelines Harmony Classic competition in October 2018 in St Louis.  This competition is for top-ranking small choruses from around the world.
Our chorus was founded by Doris Ward in 1995 and has been directed by Vicki Dwyer since 2002.The chorus's name, which takes a twist on one of Australia's iconic landmarks, Circular Quay, celebrates our good fortune in living in one of the world's most beautiful cities. Circular Keys Chorus embraces the Sweet Adelines' motto of real women, real harmony, real fun whenever we meet to rehearse or perform.  We produce our own shows, as well as performing in a variety of venues.
Circular Keys Chorus is a not-for-profit incorporated association.  Our purpose is to perpetuate and enhance the barbershop music art form through education, thereby benefiting local communities by furthering their artistic enrichment.