Submitted by Deborah Martin on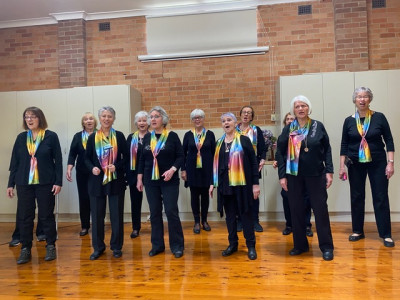 What better way to celebrate the blossoming of spring, and the waning of a three-year covid winter, than to warm the hearts of an appreciative audience with song. On Friday 16th September 2022 the Bunch of Keys emerged from hibernation and performed for the Discovery Group at the West Epping Uniting Church.
We sang lots of old favourites, and turned our delighted listeners into fellow performers as they joined in on various interactive numbers, including the 'Bulldog song'. Alison Anderson gave the audience a brief tutorial on the origins of barbershop harmony and we demonstrated the techniques with The Five Chord Change. We then performed a number of songs from our repertoire including How High The Moon and True Colours. At the end of the concert we were each presented with a bowl containing individually wrapped chocolates – what a festive treat!
The Bunch of Keys is a subset of Circular Keys Chorus. Under the leadership of Steph Wallbank, the group meets regularly and performs for community organisations, hospitals and local events. It is made up mostly of retired or semi-retired women who have the time available on weekdays to rehearse and prepare for its periodic performances.